Portable Multi Parameter Non-plug-in Patient Monitor
Product origin :Guangdong
Delivery time :10 days
Supply capacity :2000 set/month
Portable multi parameter non-plug-in patient monitor

1. Portable, easy to carry

2. Multi Parameter: standard 6 parameters + special 6 parameters

3. Bedside machine: suitable to inpatient award, normal dept.

4. Non-plug-in: high cost-effective
Part 2: M series patient monitor
| | | |
| --- | --- | --- |
| No. | Model | Name |
| 1 | M800 | Handheld Patient Monitor |
| 2 | M8000A | Multi-parameter Patient Monitor |
| 3 | M8500 | Portable Patient Monitor |
| 4 | M9000A | Multi-parameter Patient Monitor |

1. M800 Handheld PatientMonitor

Features:
Ø Compact, lightweight for clinical use, Providing patient ECG, SpO2 and PR monitoring.
Ø Flexible visual angle, high resolution 2.4 inch color OLED display and power saving, automatic display rotation (Gravity Activated) provides for vertical and horizontal positioning to maximizing space utilization and visibility, with waveform and big numeric display modes.
Ø Two selectable working modes: spot check and continuous monitoring
Ø Large data storage and transfer to PC for reviewing or printing.
Ø Nellcor SpO2 module (Optional).
Ø Convenient AA size alkaline or rechargeable batteries, automaticly distinguishing lithium ion battery from alkaline battery and charging lithium ion battery.
Ø Batteries to support up to 24 hours continuous monitoring of ECG and SpO2 simultaneously.
2. M8000A Multi-parameterPatient Monitor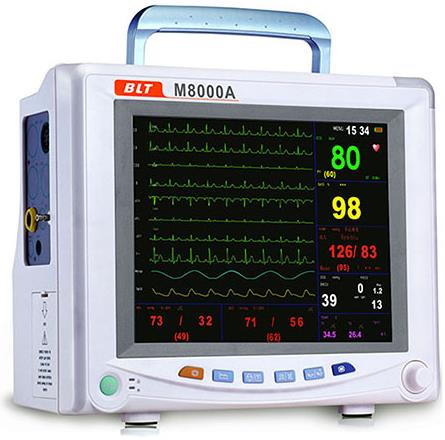 Features:
Ø 10.4'' HD color TFT screen, multi-channel waveform display
Ø Monitoring parameters: ECG, blood pressure, blood oxygen, breathing, pulse, body temperature etc.
Ø Noctilucent buttons, easy night operation
Ø Oxygen can be upgraded US Masimo SET digital blood oxygen technology or Nellcor Oximax pulse oximetry, to ensure that the non-static state and low perfusion of patients with peripheral pulse blood oxygen accurate measurement
Ø 7-lead electrocardiogram with the screen display, to meet the clinical care of chest X-ray ECG application
Ø Support external mirror display, can be dual-screen display
Ø Optional built-in thermal 3-channel recorder, the channel to be printed waveform can be arbitrarily selected
Ø Built-in pluggable rechargeable battery and dual battery slot, uninterrupted monitoring
Ø With wired / wireless / hybrid networking, support two-way communication function, can be widely used in patients with surgical monitoring and intensive care
ØSuitable for adult, pediatric, neonatal full-time patients with vital signs monitoring
3. M8500 Portable PatientMonitor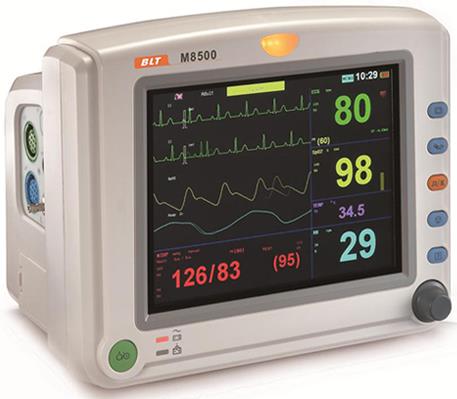 Features:
Ø Colorful and clear 8" TFT LCD
Ø 10 minutes one important lead's ECG waveform reviewing
Ø 72h trend data storage and reviewing
Ø 750 groups NIBP measurement
Ø 1000 groups Alarm events reviewing
Ø Supporting for nurse call, built-in recorder (optional ), wireless or wired networking
4. M9000A Multi-ParameterPatient Monitor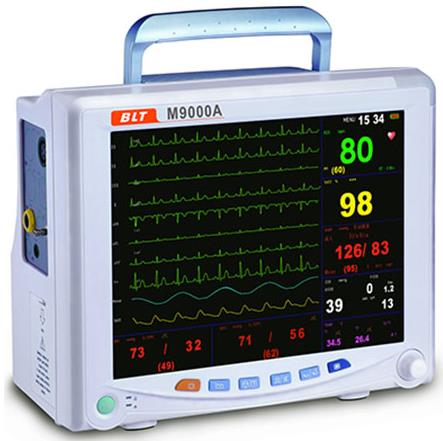 Features:
Ø Touch Screen, 3/5 Lead ECG , HR, RESP, NIBP, SPO2, PR, 2-TEMP, Lithium Battery, 12V DC input.
Ø Option:
2-IBP, Masimo SpO2, Nellcor SPO2, EtCO2 (Side Stream, Main Stream, Micro Stream), Thermal Recorder, WiFi module, VGA output.
Please feel free to give your inquiry in the form below. We will reply you in 24 hours.